Trainers, here are 6 key steps to get started with EQUIMETRE. This article can be a good starting point for beginners.
At any time, if you have a question, do not hesitate to call the Equimetre Assistant Chatbot at the bottom left of the Equimetre.com platform. We try to be ready to answer anytime.
1. Equimetre.com account setup
The first step is the validation of your Equimetre account by choosing your password.
You have received an email with a link to choose your password.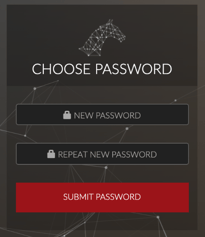 Don't forget to check in your spam
2. Download the applications
There are 3 apps available for Equimetre.

1. Equimetre app = main tool to review + download your trainings
2. Equimetre live = to view speed + heart rate live using bluetooth
(range approx 20m. from sensor)
3. Equimetre ECG = to view the electrocardiogram live using bluetooth
(range approx 20m. from sensor)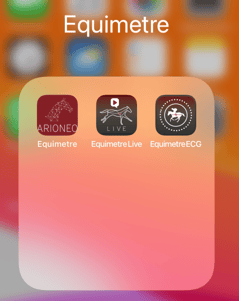 * Available on the Apple Store for iPhone and on the Play Store for Android
3. Sensor physical set up


No phone needed during this step

Once you receive your sensor, you can put it in charge directly thanks to the charging clamp.

You will find an installation sheet inside the suitcase.
Please find them below:
Find installation tutorials, complete user guides and installation instructions at any time by clicking here.

4. First training
Follow the steps in the installation instructions.
Dampen the electrodes
Press the button to turn on the sensor
Scan the vet chip or press the button three times quickly to start the training.
Attach the sensor to the girth
After the training, turn off the sensor by holding down the button for 3 seconds to mark the end of the workout.
You can go on to monitor the next training session by repeating these steps.
Clearer in video?
Click on the video title to view it on Youtube.

| | |
| --- | --- |
| Fixture Flat | |
| Fixture Vet | |
| Fixture Harness | |
5. First data synchronisation after the training



To sync your trainings:

1) Make sure your device is turned off, you can also plug it to charge to make sure you have enough battery
2) Open your Equimetre app and make sure Bluetooth is on
(thus stay near the device)
3) Click on the red button "Synch. of my trainings" and wait for the loading bar to complete
4) You should then be able to see your trainings on the app and on the web platform
If you have started your training manually, you will see the mention "choose a horse"


Click on it and enter your horse's microchip number to view the training, you only have to complete this step the fist time !

5) In the "My Trainings" tab, find all the saved trainings. To view your training, click on the info like below: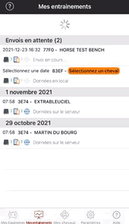 Warning: Make sure that the Equimetre is not paired to the bluetooth
(through the settings app of your phone) it should only be turned on.

Otherwise you will not be able to synchronise your sensor.
6. First data reading and Data coaching session
Please get in touch with you dedicated Data Success Manager in order to go further into the analysis