EQUIMETRE is equipped with a RFID chip reader to automatically recognize the horse for which the sensor will record the training.
Most countries have made it mandatory for competition to have veterinary microchips in the horse's neck.

The upper part of the EQUIMETRE sensor can read these chips, which allows to start a training session and to link it automatically to the horse's profile.
Start a training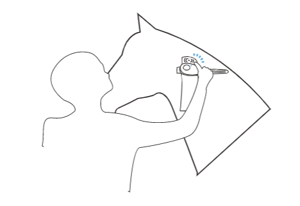 When the blue led flashes, it means that the sensor is in chip detection mode and is waiting to mark the start of recording.

When the chip is detected or the button has been pressed 3 times quickly, the blue led lights up continuously, the training is being recorded.
First chip detection of a horse
French horses: there is no manual operation to be carried out, the horse is recognized by EQUIMETRE, and its information is filled automatically thanks to the SIRE database. You will find the profile of the horse in your EQUIMETRE stable.
Non-French horses: two cases.

The horse was added to your stable beforehand from the computer and EQUIMETRE already knew its veterinary chip number and its information. The detection will be automatic and the training associated with the horse.
The horse is unknown to EQUIMETRE. Once the data has been downloaded, the application will propose you to "Choose a horse", when you click the list of all your known horses will be displayed as well as a (+) in the top right corner. This is where you can fill in the horse's information. The next times, everything will be automatically linked to the horse.
Difficulties to read the chip
It is sometimes difficult to find the vet chip of some horses on which you have to look for some time (usually on the left side of the neck, along the hairline and towards the ears).
To start the training without the microchip: press the button 3 times quickly.
At the end of the training:
Download the data with the phone
Manually associate the horse to the training thanks to the list of your horses by clicking on "Choose a horse" from the My Trainings tab in the application.

If the horse does not appear in the list, add it with the (+) button.
🚨⚠️
If your EQUIMETRE never recognizes the chip of any of your horses
,
contact the Support here
, or through the chatbot.