The My Horse pages allow you to personalize the information, to analyze the longitudinal tracking, to find all the past trainings for each horse.
Personnaliser le profil du cheval
The My Horse page is accessible from the My Yard tab or from the extract of My Yard on the Dashboard, it is also accessible from each training review page by clicking on the name of the horse.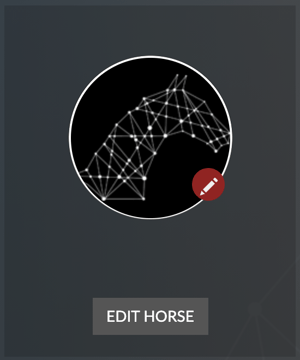 Change age and gender
To change the age and sex of the horse just go to :
My yard
Select the desired horse
Edit horse
Select the birth year
Select the birth month
Select the gender
Save
Find the horse's best performances
The key parameters present the records saved for this horse during the training sessions monitored by Equimetre. Use the filters to analyze the records according to tracks or types of training for example. The filters are based on the training conditions, to learn more about how to edit a training conditions, click here.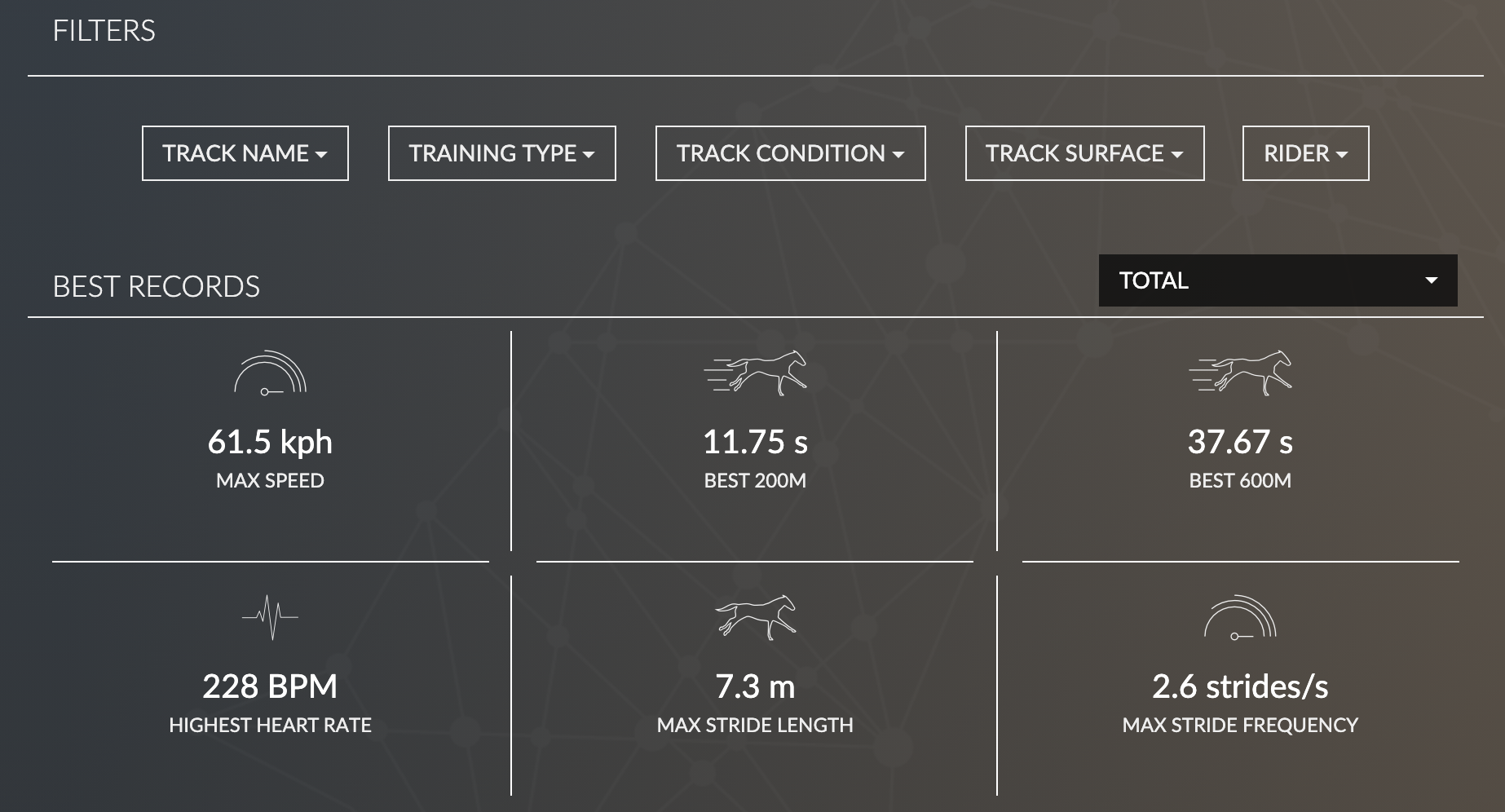 Longitudinal analysis of the horse performance
The My Horse page offers a visual overview of the horse's training over time according to 4 parameters.
By hovering the mouse over each point, you will find the qualification information of the training and the points corresponding to the same training will be highlighted on the other graphs.
Click on the point to open the training review page in a new tab.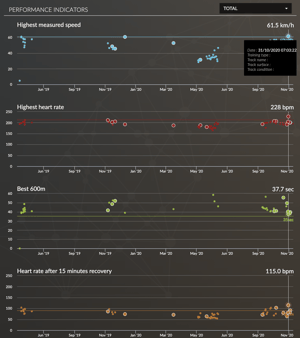 Max speed

: the maximum speed recorded. Marker at 60 km/h (speed comparable to running speeds).

HR max: the maximum heart rate achieved during training. Reference at 210 bpm.
Best 600m: time for the best 600m, allows you to judge whether or not the speed has been maintained. 35 s marker (comparable to racing times over 600m).
Recovery at 15 min: HR after 15 minutes, allows to judge the intensity of the effort for the horse. A good means of warning in the event of deterioration of recovery over time for comparable speeds. Reference point at 90 bpm (a good recovery target 15 minutes after an intense effort).
Training Calendar
At the bottom of the My Horse page, you will find the horse's training schedule. Click on the training to access its replay.