The Equimetre sensor has a movement sensor which allows it to measure the horse's movements in all directions. Thanks to these measurements, Equimetre can give indications on locomotion: it automatically detects the horse's gait, stride length, and stride frequency throughout the training.
On the training map, the track is indicated in yellow for walking, orange for trotting, red for canter.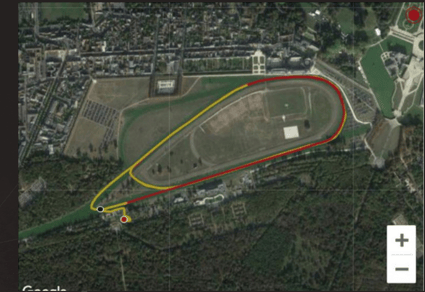 Stride length and stride frequency curves should be analyzed together with the speed curve as they help to determine the horse's acceleration strategy. The average data on the fastest interval present in the split times table gives a good idea of the stride length/stride frequency pair for each horse.
Help with distance choices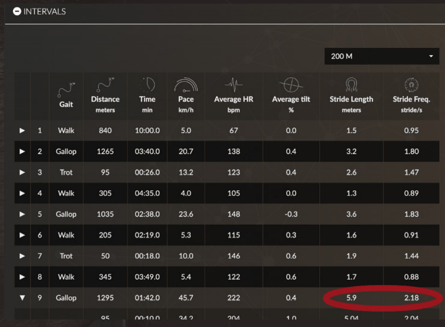 The Stride length/Stride frequency couple provides an objective help in the choice of distance for race entries since it gives information on the horse's speed strategy. In theory, a large stride length will rather benefit the horse over long distances, while a large stride frequency will rather be an asset for sprinting as it will allow the horse to reach a maximum speed quickly, but will be more difficult to hold over the distance.
Points of reference