The Analytics tab allows you to build a customized data table by choosing from nearly 160 indicators.
Accessing the settings area
To set up the table go to the Analytics settings, either by using the "Customize this table" shortcut above the Analytics table, or by clicking on "My Account" --> Settings --> My Analytics Table .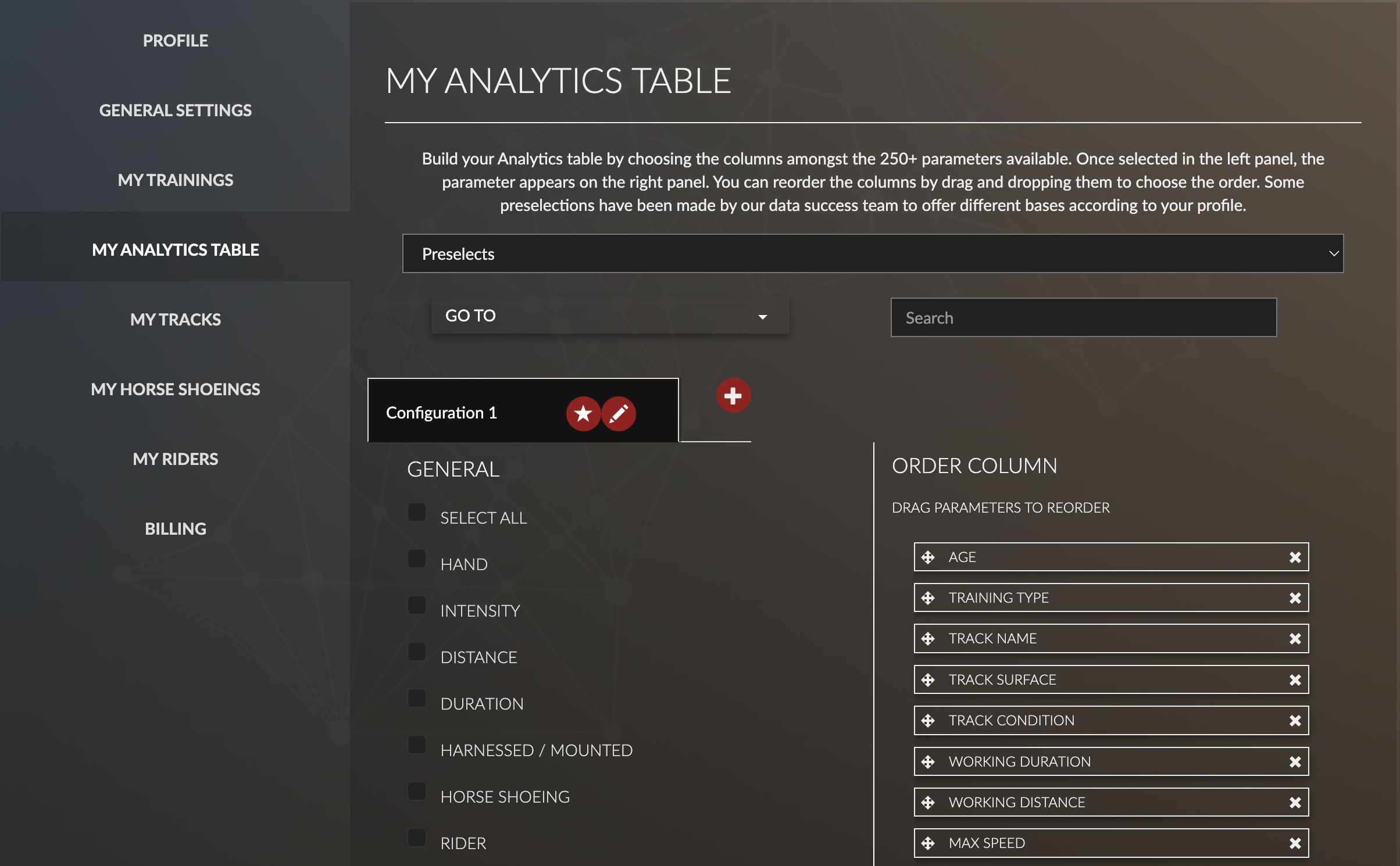 Default settings
Our teams have built preselections according to the type of account (Galop, Trot, Sport, Vet). By default, the table corresponding to your account type is selected. You can play with the different preselects thanks to the drop-down menu.
Customization
In your account settings, go to the My Analytics Table and choose the indicators you want to add in the left panel.

These will appear in the right panel and this same panel allows you to reorder the columns of your table by clicking and dragging.

Don't forget to save your selection!
Adding another configuration
Another configuration can be added to your account by clicking the + icon beside configuration 1. This allows you to add a different set of parameters to another table and rename accordingly. By clicking on the Star Icon the configuration will be set as your default view, again don't forget to save your selection!

List of available parameters and their description

General
| | |
| --- | --- |
| Date | Date of the training. |
| Horse | Name of the horse. |
| Age | Age of the horse if specified in the horse page. |
| Sex | Sex of the horse if specified in the horse page. |
| Training type | Type of training if specified in the training page. |
| Track name | Name of the track if specified in the training page. |
| Track surface | Surface of the track if specified in the training page. |
| Track condition | Condition of the track if specified in the training page. |
| City | City where the training takes place (based on the GPS coordinate). |
| Rider | Name of the rider if specified in the training page. |
| Horse Shoeing | Type of shoeing if specified in the training page. |
| Temperature | Temperature at the time of the training provided by a weather service provider. |
| Humidity | Humidity at the time of the training provided by a weather service provider. |
| Hand | Hand detected during the main work. |
| Duration | Total duration of the training in minutes. The time of inactivity following the ignition and preceding the shutdown of the device are automatically removed. |
| Distance | Total distance travelled during the training in meters. The time of inactivity following the ignition and preceding the shutdown of the device are automatically removed. |
| Intensity | Intensity comparatively to an equivalent 1600m race. |

AVERAGE


| | |
| --- | --- |
| Working distance | Distance travelled during the main work. |
| Working Duration | Duration the main work in seconds. |
| Main working average speed | Average speed during the main work. |
| Main working average heart rate | Average heart rate during the main work. |
| Walking distance | Total distance travelled at walk in meters. |
| Walking duration | Total duration at walk in seconds. |
| Walking average speed | Average speed at walk. |
| Walking average HR | Average heart rate at walk. |
| Trotting distance | Total distance travelled at trot in meters. |
| Trotting duration | Total duration at trot in seconds. |
| Trotting average speed | Average speed at trot. |
| Trotting average heart rate | Average heart rate at trot. |
| Gallop distance | Total distance travelled at gallop in meters. |
| Gallop duration | Total duration at gallop in seconds. |
| Gallop average speed | Average speed at gallop. |
| Gallop average heart rate | Average heart rate at gallop. |
| Mean heart rate first trot | Average heart rate during the warm-up trot phase. The horse must have covered at least 250m of continuous trot, at an average speed of less than 30km/h (18mph). |
| Mean speed first trot | Average speed during the warm-up trot phase. The horse must have covered at least 250m of continuous trot, at an average speed of less than 30km/h (18mph). |
| Mean stride length first trot | Average stride length during the warm-up trot phase. The horse must have covered at least 250m of continuous trot, at an average speed of less than 30km/h (18mph). |
| Mean stride frequency first trot | Average stride frequency during the warm-up trot phase. The horse must have covered at least 250m of continuous trot, at an average speed of less than 30km/h (18mph). |
| Mean symmetry first trot | Average symmetry during the warm-up trot phase. The symmetry evaluate the similarity between the half strides left and right over a continuous period of 5 seconds. 100% perfect symmetry, 0% no symmetry at all. The horse must have covered at least 250m of continuous trot, at an average speed of less than 30km/h (18mph). |
| Mean regularity first trot | Average regularity during the warm-up trot phase. The regularity evaluate the similarity between strides over a continuous period of 5 seconds. 100% perfect regularity, 0% no regularity at all. The horse must have covered at least 250m of continuous trot, at an average speed of less than 30km/h (18mph). |
| Mean heart rate first canter | Average heart rate during the warm-up gallop phase. The horse must have covered at least 250m of continuous gallop, at an average speed of less than 45km/h (28mph). |
| Mean speed first canter | Average speed during the warm-up gallop phase. The horse must have covered at least 250m of continuous gallop, at an average speed of less than 45km/h (28mph). |
| Mean stride length first canter | Average stride length during the warm-up gallop phase. The horse must have covered at least 250m of continuous gallop, at an average speed of less than 45km/h (28mph). |
| Mean stride frequency first canter | Average stride frequency during the warm-up gallop phase. The horse must have covered at least 250m of continuous gallop, at an average speed of less than 45km/h (28mph). |
| Mean regularity first canter | Average regularity during the warm-up gallop phase. The regularity evaluate the similarity between strides over a continuous period of 5 seconds. 100% perfect regularity, 0% no regularity at all. The horse must have covered at least 250m of continuous gallop, at an average speed of less than 45km/h (28mph). |
| Distance at speed > 33km/h | Total distance travelled in meters when speed is over 20.5 mph [550m/min]. |
| Duration at speed >20 mph | Total duration in seconds when speed is over 20.5 mph [550m/min]. |
| Average speed at speed > 20 mph | Average speed when speed is over 20.5 mph [550m/min]. |
| Average heart rate at speed > 20 mph | Average heart rate when speed is over 20.5mph [550m/min]. |
| Distance at speed > 34 mph | Total distance travelled in meters when speed is over 34mph. |
| Duration at speed > 34 mph | Total duration in seconds when speed is over 34mph. |
| Average speed at speed > 34 mph | Average speed when speed is over 34mph. |
| Average heart rate at speed > 34 mph | Average heart rate when speed is over 34mph. |

INTERVALS


| | |
| --- | --- |
| Time last 1m4f | Time in seconds to run the section of 1.5 mile before the finish line. |
| Time last 1m2f | Time in seconds to run the section of 1.25 mile before the finish line. |
| Time last mile | Time in seconds to run the section of 1 mile before the finish line. |
| Temps last 7.5 furlongs | Time in seconds to run the section of 7.5 furlongs before the finish line. |
| Time last 5 furlongs | Time in seconds to run the section of 5 furlongs before the finish line. |
| Time last 4 furlongs | Time in seconds to run the section of 4 furlongs before the finish line. |
| Time last 3 furlongs | Time in seconds to run the section of 3 furlongs before the finish line. |
| Time last 2 furlongs | Time in seconds to run the section of 2 furlongs before the finish line. |
| Time last furlong | Time in seconds to run the section of 1 furlong before the finish line. |
| Temps last 2.5 furlongs | Time in seconds to run the section of 2.5 furlongs before the finish line. |
| Time last 1.25 furlongs | Time in seconds to run the section of 1.25 furlong before the finish line. |
| Time starting point to finish line | Time in seconds to run from the beginning of the exercise to the finish line. |
| Time from first furlong to finish line | Time in seconds to run from the first furlong after the beginning of the exercise to the finish line |
| Time from the second furlong to finish line | Time in seconds to run from the second furlong after the beginning of the exercise to the finish line |
| Time from the third furlong to finish line | Time in seconds to run from the third furlong after the beginning of the exercice to the finish line |
| Time from 4th furlong to finish line | Time in seconds to run from the fourth furlong after the beginning of the exercice to the finish line |
| Time from the 5th furlong to finish line | Time in seconds to run from the fifth furlong after the beginning of the exercise to the finish line. |
| Time best 1m4f | Time in seconds to run the fastest 1.5 mile on the overall recording session. |
| Time best 1m2f | Time in seconds to run the fastest 1.25 mile on the overall recording session. |
| Time best mile | Time in seconds to run the fastest 1 mile on the overall recording session. |
| Time best 7.5 furlongs | Time in seconds to run the fastest 7.5 furlongs on the overall recording session. |
| Time best 5 furlongs | Time in seconds to run the fastest 5 furlongs on the overall recording session. |
| Time best 4 furlongs | Time in seconds to run the fastest 4 furlongs on the overall recording session. |
| Time best 3 furlongs | Time to cover the fastest 600m. |
| Time best 2 furlongs | Time to cover the fastest 2 furlongs. |
| Time best furlong | Time in seconds to run the fastest furlong on the overall recording session. |
| Time best 1.25 furlongs | Time in seconds to run the fastest 1.25 furlong on the overall recording session. |
| Time best 2.5 furlongs | Time in seconds to run the fastest 2.5 furlongs on the overall recording session. |

HEART RATE ZONES


| | |
| --- | --- |
| Duration effort zone 1 | Total duration in seconds when heart rate is under 60% of the maximum heart rate. |
| Distance effort zone 1 | Total distance travelled in meters when heart rate is under 60% of the maximum heart rate. |
| Speed effort zone 1 | Average speed when heart rate is under 60% of the maximum heart rate. |
| Duration effort zone 2 | Total duration in seconds when heart rate is between 60% and 70% of the maximum heart rate. |
| Distance effort zone 2 | Total distance travelled in meters when heart rate is between 60% and 70% of the maximum heart rate. |
| Speed effort zone 2 | Average speed when heart rate is between 60% and 70% of the maximum heart rate. |
| Duration effort zone 3 | Total duration in seconds when heart rate is between 70% and 80% of the maximum heart rate. |
| Distance effort zone 3 | Total distance travelled in meters when heart rate is between 70% and 80% of the maximum heart rate. |
| Speed effort zone 3 | Average speed when heart rate is between 70% and 80% of the maximum heart rate. |
| Duration effort zone 4 | Total duration in seconds when heart rate is between 80% and 90% of the maximum heart rate. |
| Distance effort zone 4 | Total distance travelled in meters when heart rate is between 80% and 90% of the maximum heart rate. |
| Speed effort zone 4 | Average speed when heart rate is between 80% and 90% of the maximum heart rate. |
| Duration effort zone 5 | Total duration in seconds when heart rate is higher than 90% of the maximum heart rate. |
| Distance effort zone 5 | Total distance travelled in meters when heart rate is higher than 90% of the maximum heart rate. |
| Speed effort zone 5 | Average speed when heart rate is higher than 90% of the maximum heart rate. |

SPEED


| | |
| --- | --- |
| Max speed | Highest speed measured. |
| Highest measured acceleration | Highest recorded acceleration during trot or gallop. |
| Speed last 1m4f | Mean speed to run the section of 1.5 mile before the finish line. |
| Speed last 1m2f | Mean speed to run the section of 1.25 mile before the finish line. |
| Speed last mile | Mean speed to run the section of 1 mile before the finish line. |
| Speed last 7 furlongs and half | Mean speed to run the section of 7.5 furlongs before the finish line. |
| Speed last 5 furlongs | Mean speed to run the section of 5 furlongs before the finish line. |
| Speed last 4 furlongs | Mean speed to run the section of 4 furlongs before the finish line. |
| Speed last 3 furlongs | Mean speed to run the section of 3 furlongs before the finish line. |
| Speed last 2 furlongs and half | Mean speed to run the section of 2.5 furlongs before the finish line. |
| Speed last 2 furlongs | Mean speed to run the section of 2 furlongs before the finish line. |
| Speed last furlong and quarter | Mean speed to run the section of 1.25 furlong before the finish line. |
| Speed last furlong | Mean speed to run the section of 1 furlong before the finish line. |
| Speed best 1m4f | Mean speed to run the fastest 1.5 mile on the overall recording session. |
| Speed best 1m2f | Mean speed to run the fastest 1.25 mile on the overall recording session. |
| Speed best mile | Mean speed to run the fastest 1 mile on the overall recording session. |
| Speed best 7 furlongs and half | Mean speed to run the fastest 7.5 furlongs on the overall recording session. |
| Speed best 5 furlongs | Mean speed to run the fastest 5 furlongs on the overall recording session. |
| Speed best 4 furlongs | Mean speed to run the fastest 4 furlongs on the overall recording session. |
| Speed best 3 Furlongs | Mean speed to run the fastest 3 furlongs on the overall recording session. |
| Speed best 2 furlongs and half | Mean speed to run the fastest 2.5 furlongs on the overall recording session. |
| Speed best 2 furlongs | Mean speed to run the fastest 2 furlongs on the overall recording session. |
| Speed best furlong and quarter | Mean speed to run the fastest 1.25 furlong on the overall recording session. |
| Speed best furlong | Mean speed to run the fastest furlong on the overall recording session. |
HEART RATE


| | |
| --- | --- |
| Max Heart Rate | Highest recorded heart rate during trot or gallop. Values automatically detected as outlayer could have been excluded. |
| Fast Recovery | Heart rate at the end of the fast recovery following the last high intensity exercise. This value is calculated according to the horse's recovery profile, without taking into account active recovery. If the recorded recovery time is less than 8 min, no value is displayed. For more information, <a class="eq-link" target="_blank" href="https://www.arioneo.com/en/racing-improve-recovery/" style="color:white">https://www.arioneo.com/en/racing-improve-recovery/</a> |
| Heart rate after effort percent | Percentage of the maximum heart rate at the end of the fast recovery following the last high intensity exercise. This value is calculated according to the horse's recovery profile, without taking into account active recovery. If the recorded recovery time is less than 8 min, no value is displayed. For more information, <a class="eq-link" target="_blank" href="https://www.arioneo.com/en/racing-improve-recovery/" style="color:white">https://www.arioneo.com/en/racing-improve-recovery/</a>'. |
| Fast recovery quality | Quality of the recovery at the end of the fast recovery following the last high intensity exercise. The classification is based on the overall recorded data with Equimetre. |
| Heart Rate after 15 min | Heart rate at the end after 15min recovery from stopping last high intensity exercise. This value is calculated according to the horse's recovery profile, without taking into account active recovery. If the recorded recovery time is less than 8 min, no value is displayed. For more information, <a class="eq-link" target="_blank" href="https://www.arioneo.com/en/racing-improve-recovery/" style="color:white">https://www.arioneo.com/en/racing-improve-recovery/</a>. |
| Heart rate after 15 min recovery in percent | Percentage of the maximum heart rate after 15min recovery from stopping last high intensity exercise. This value is calculated according to the horse's recovery profile, without taking into account active recovery. If the recorded recovery time is less than 8 min, no value is displayed. For more information, <a class="eq-link" target="_blank" href="https://www.arioneo.com/en/racing-improve-recovery/" style="color:white">https://www.arioneo.com/en/racing-improve-recovery/</a>. |
| 15min recovery Quality | Quality of the recovery at the end after 15min recovery from stopping last high intensity exercise. The classification is based on the overall recorded data with Equimetre. |
| Heart rate at end | Lowest heart rate value in the few minutes before removing the device from the horse. |
| Heart rate at end in percent | Lowest percentage of the maximum heart rate in the few minutes before removing the device from the horse. |
| Heart rate at end quality | Quality of the recovery in the few minutes before removing the device from the horse. The classification is based on the overall recorded data with Equimetre. |
| Heart rate after 1 min. | Heart rate at the end after 1 min recovery from stopping last high intensity exercise. |
| Heart rate after 90 s. | Heart rate at the end after 90 s recovery from stopping last high intensity exercise. |
| Heart rate after 2 min. | Heart rate at the end after 2 min recovery from stopping last high intensity exercise. |
| Heart rate after 3 min. | Heart rate at the end after 3 min recovery from stopping last high intensity exercise. |
| Heart rate after 4 min. | Heart rate at the end after 4 min recovery from stopping last high intensity exercise. |
| Heart rate after 5 min. | Heart rate at the end after 5 min recovery from stopping last high intensity exercise. |
| Time to 120 bpm | Time in seconds from the end of last highest exercise to reach 120bpm. |
| Qualification time to recover at 120 bpm | Quality of the recovery at 120 bpm. |
| Time to 100 bpm | Time in seconds from the end of last highest exercise to reach 100bpm. |
| Qualification time to recover at 100 bpm | Quality of the recovery at 100 bpm. |
| Speed at 200 bpm | Speed at 200bpm. The value is computed based on a model. To increase the accuracy of the v200, it is recommended to perform a standardized exercise tests. |
| Speed at 170bpm | Speed at 170bpm. The value is computed based on a model. To increase the accuracy of the v170, it is recommended to perform a standardized exercise tests. |
| Speed at 150 bpm | Speed at 150bpm. The value is computed based on a model. To increase the accuracy of the v150, it is recommended to perform a standardized exercise tests. |
| Maximum Anaerobic Speed | Speed at 90% of the maximum heart rate. The value is computed based on a model and a heart rate frequency of 90% of the maximum heart rate has to be reached. To increase the accuracy of the VMA, it is recommended to perform a standardized exercise tests. |
| Acidose | Time delay in seconds between the end of the exercice, detected automatically when the speed start decreasing, and the beginning of the decrease of the heart rate. |
| Oxygen debt time | Time delay in seconds between the end of the exercise, detected automatically when the speed start decreasing, and the time of the fast recovery. |
LOCOMOTION


| | |
| --- | --- |
| Stride frequency at 20mph | Stride frequency at 20.5mph. This value is computed if the speed is reached based on a model. |
| Stride length at 20 mph | Stride length at 20.5mph. This value is computed based on a model if the speed is reached. The stride length is derived from the stride frequency and the speed. |
| Stride frequency at 28 mph | Stride frequency at 28mph. This value is computed if the speed is reached based on a model. |
| Stride length at 28 mph | Stride length at 28mph. This value is computed based on a model if the speed is reached. The stride length is derived from the stride frequency and the speed. |
| Stride frequency at 31 mph | Stride frequency at 31mph. This value is computed if the speed is reached based on a model. |
| Stride length at 31 mph | Stride length at 31mph. This value is computed based on a model if the speed is reached. The stride length is derived from the stride frequency and the speed. |
| Stride frequency at 37 mph | Stride frequency at 37.3mph. This value is computed if the speed is reached based on a model. |
| Stride length at 37 mph | Stride length at 37.3mph. This value is computed based on a model if the speed is reached. The stride length is derived from the stride frequency and the speed. |
| Stride frequency at max speed | Stride frequency at maximum speed. This value is computed if the speed is reached based on a model. |
| Stride length at max speed | Stride length at maximum speed. This value is computed based on a model if the speed is reached. The stride length is derived from the stride frequency and the speed. |
| Max Stride Frequency | Maximum stride frequency recorded. |
| Stride Length Max | Maximum stride length recorded. |